Today while reading Twitter ,two different tweets have revealed me a real perspective of the humankind.
Probably here in the binary world I have the unlimited power and the freedom to connect worlds, stories and moments of life that have nothing in common.
Here I see one single tragic story about ourselves. I see a woman dying and a choir of blind angels singing. I am watching both videos in the same time. One is silent and one has music. I recommend you to watch them in the same way...
We preach the online communion of intelligence and emotion, but we are incapable to experience the real communion in the real life. We are the creators of the unlimited social networks , but we are living in a such disconnected world. We are developing fabulous technologies to fly in space and to read our minds, but we know so little about our souls.
What we want to achieve ? Where we want to go ? How we define a human value ? How we define ourselves ?
"Maricica Hahaianu was taken off life support and pronounced dead"
32 year old Maricica Hahaianu got into an argument with an Italian over a ticket in Anagnina metro station. She hit her head when she fell to the ground after the 20 year old aggressor punched her. A video shows her lying on the floor for a long time as no one in the metro station intervened to help her.
masakepic
, Brighton, England
I'm amazed people ignored it completely, in broad daylight, especially when she didn't get up. Not everyone is like that. /
ajnabee
equally sad was/is the total indifference to it by the part of bystanders, the government, and the public in general.
Eric Whitacre put together a choir of 185 singers from 12 countries who never sang together until their voices were edited together. Here they perform Whitacre's composition Lux Aurumque.
via
Sorin Grumazescu
In the end, I will kindly ask you to stay HUMAN, to stay AWAKE, to stay GOOD.
We have Time by
Octavian Paler
We have time
we have time for all.
To sleep,
to jog right and left
to regret our mistakes and make a mistake again
to judge others and we absolve ourselves
we have time to read and write
to correct what we wrote, to regret what we wrote
we have time to make plans and do not respect them
we have time to make illusions
and rummage through their ashes later
we have time for ambitions and diseases
to blame destiny and details
we have time to watch the clouds, advertisements or some accident
we have time to get away questions
to postpone the answers
we have time to crush a dream and reinvent it
we have time to make friends and lose them
we have time to take lessons and then forget them
we have time to receive gifts and not understand them
we have time for all
Is no time for a little tenderness
and when to do it, we die.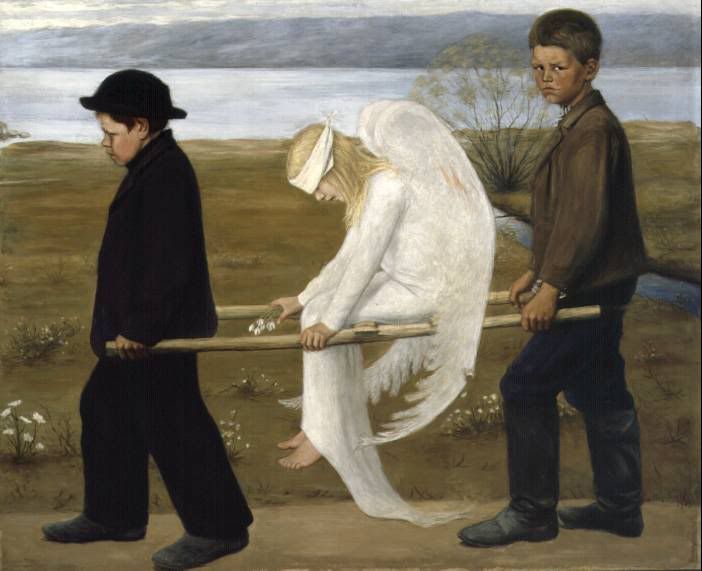 The Wounded Angel (Finnish: Haavoittunut enkeli) (1903) is a painting by Finnish symbolist painter Hugo Simberg