She was my childhood inspiration -
Nadia Comaneci
, the first gymnast ever to be awarded a perfect score of 10 in an Olympic gymnastic event.
"...Romania, 1976.In a communist country where our very few happy moments where the Saturdays "Dallas" episodes or-for the children-the Sundays 20 minutes (only) of "real cartoons" from Disney, Nadia helped us to dream again about what you can do if you have the determination needed.
During the nights of Montreal Olympics (there is 7 hours deference between the East Coast and Bucharest), we use to stay late in the nights to see Nadia competing. Next days, most of us were felling asleep at school or work. My older family members said they didn't have so much emotions and excitement (and late nigh TV broadcast) since the first landing on the Moon back in 60's. I think these both events are somehow connected because they show how much the human being can progress and do for the benefit of the whole world."
Nadia Comaneci- the very first "Perfect 10" World Citizen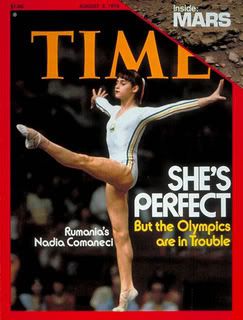 "The world's first perfect gymnast"
By BRUCE LOWITT ,
from "Top 100 Sport Stories of the Century"
"The silence was broken only by the sounds of clicking -- hundreds of cameras capturing the moment.
What they caught was perfection. Nadia Comaneci, the 14-year-old Romanian, arched in midair for an instant on her dismount from the uneven parallel bars, then the feet supporting her 4-foot-11, 86-pound body landed softly on the mat.
The silence was shattered by an explosion of cheering and applause that, after a few seconds, turned to consternation.
Flashing on the electronic scoreboard was 1.00. It took a moment for the 18,000 spectators at the Forum to realize that Comaneci had, in effect, outperformed modern technology

.
"
Read full original story
here.




HAPPY BIRTHDAY, NADIA !

and THANK YOU